Annual Meeting
PNMHS postponed the annual meeting on February 20 for loss of power and internet.
Now rescheduled for March 20, 1:30 PM (same time) and on Zoom.  The program is unchanged.  We appreciate the flexibility of Sarah Augustine and Jonathan Neufeld.
"The Path to Acknowledgement: Mennonite Settlement in the Pacific Northwest" presented by Sarah Augustine of Yakima, WA and Jonathan Neufeld, from Seattle Mennonite. Who were the indigenous people here before settlers and Mennonites came to this land? What influenced our decisions in how and where we live? Click this link for bios of the presenters.
You are invited to join the program at this link: https://us02web.zoom.us/j/84858146570
The luncheon and program usually provide operating funds. Please consider PNMHS in your giving.
---
To respect everyone's safety the Ivan and Pearl Kropf Heritage Center will be closed until further notice of the state of Oregon Covid19 restrictions are lifted.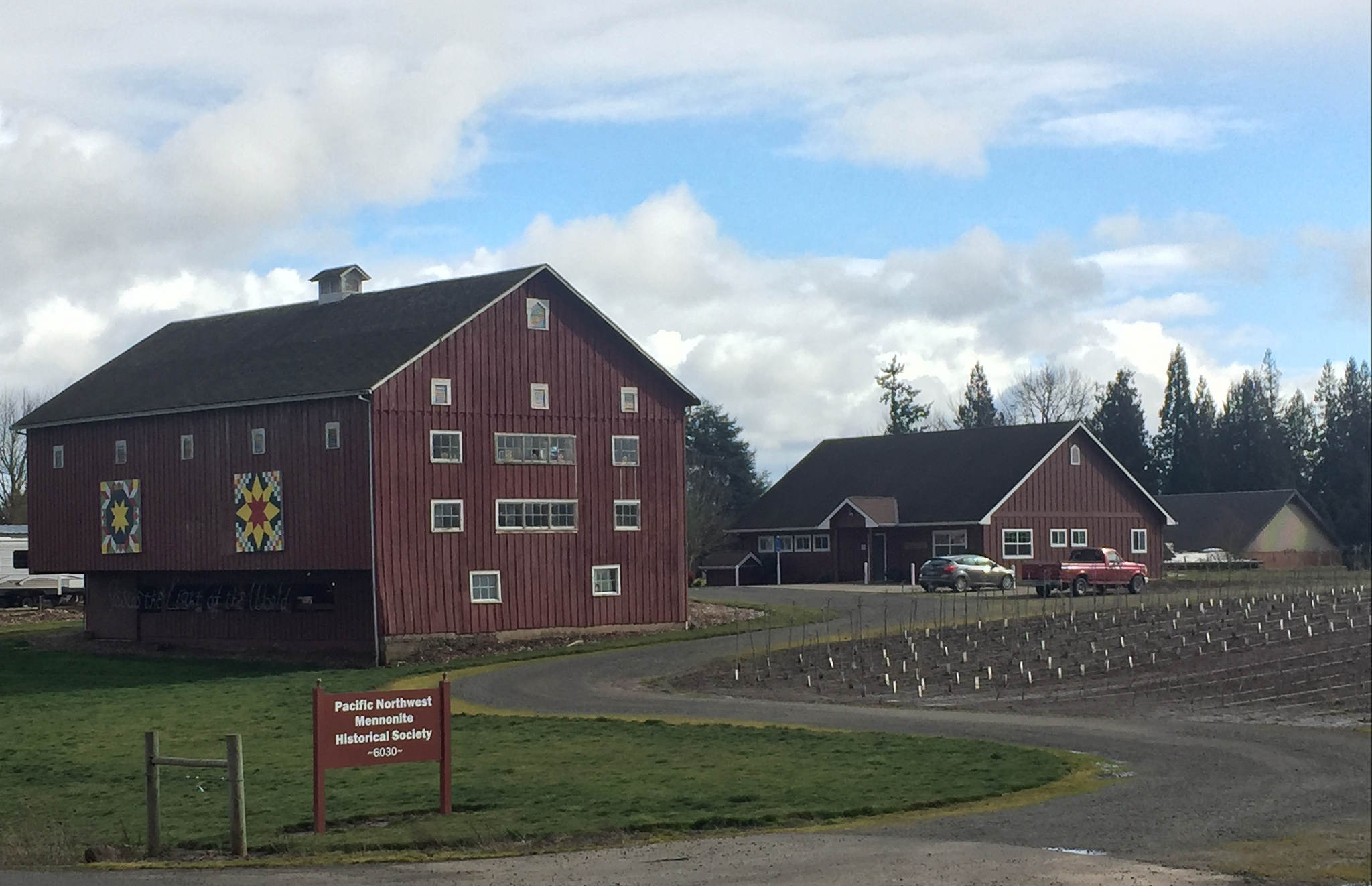 Pacific Northwest Mennonite Historical Society
Where history (and your story) matter.
Ivan and Pearl Kropf Heritage Center
6030 South Whiskey Hill Road
Hubbard, OR 97032-9406
phone: 503-266-6447
The purpose of the Pacific Northwest Mennonite Historical Society [PNMHS] is to record and preserve the history of Mennonite and related groups for present and future generations. We serve the congregations and communities of the Pacific Northwest Mennonite Conference. Our goals are to:
•  collect, preserve and organize records, writing, and artifacts of Mennonite groups,
•  aid historians and genealogists,
•  increase interest in Mennonite history and genealogy.  
more about PNMHS here   |  scroll down for more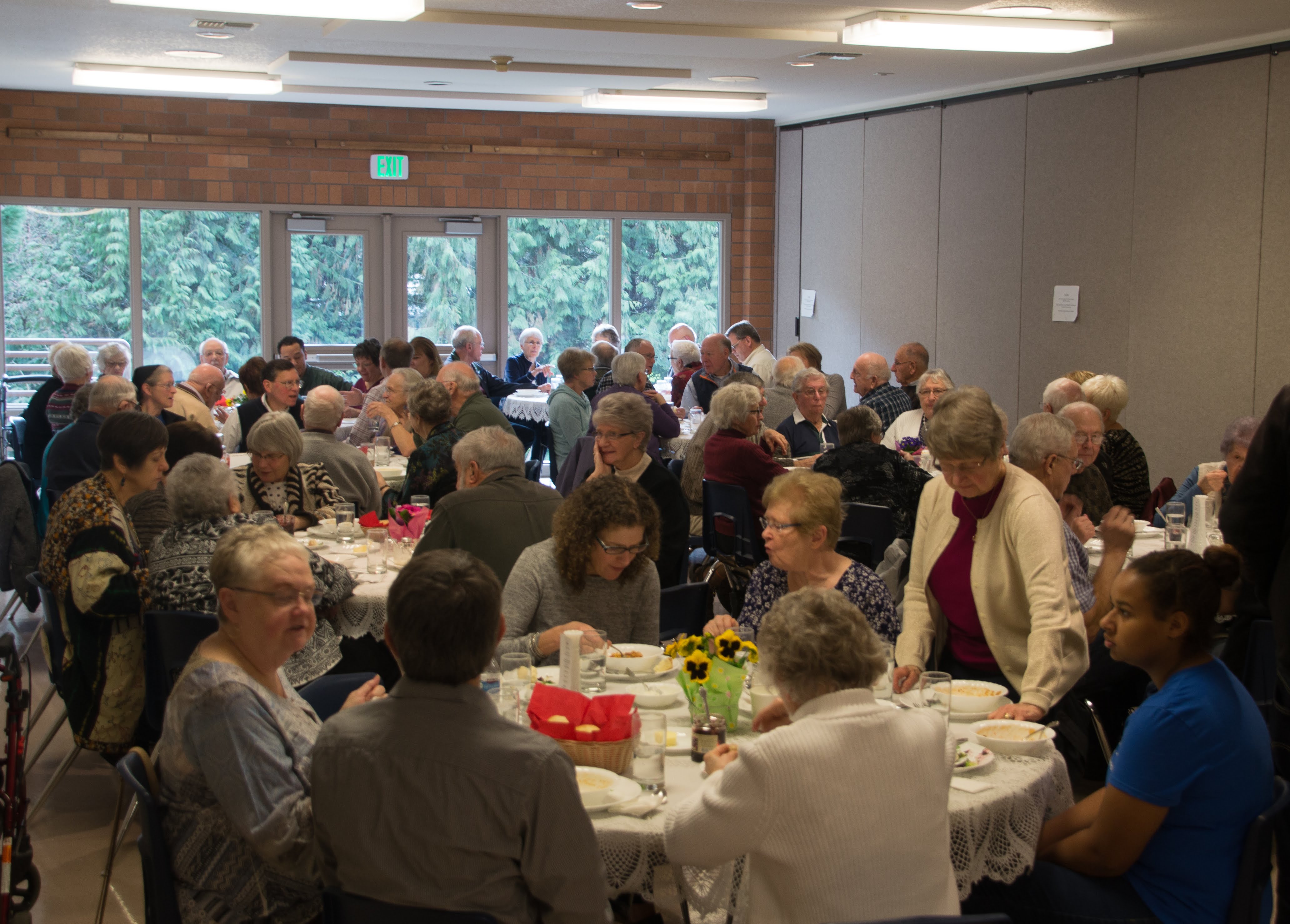 WHO WE ARE
Founded in 1988 as Oregon Mennonite Historical and Genealogical Society. The change in name reflects a refocus in our mission to serve the Mennonite Community in the Northwest.
Mission Statement:
Pacific Northwest Mennonite Historical Society seeks to collect and preserve historical materials and to celebrate the heritage of Mennonites in the Pacific Northwest in order to educate, inspire, and witness to the church and broader community.
Pacific Northwest Mennonite Historical Society collects and preserves historical materials to document and celebrate the heritage of Mennonites in Oregon, Washington, Idaho, western Montana and Alaska. Our archival collections include personal, congregation, conference, and institution history, and collections of family histories, personal papers and community documents.
We host public events featuring speakers on various facets of Mennonite history, fellowship and genealogy.
PNMHS is the official depository of churches belonging to the Pacific Northwest Mennonite Conference.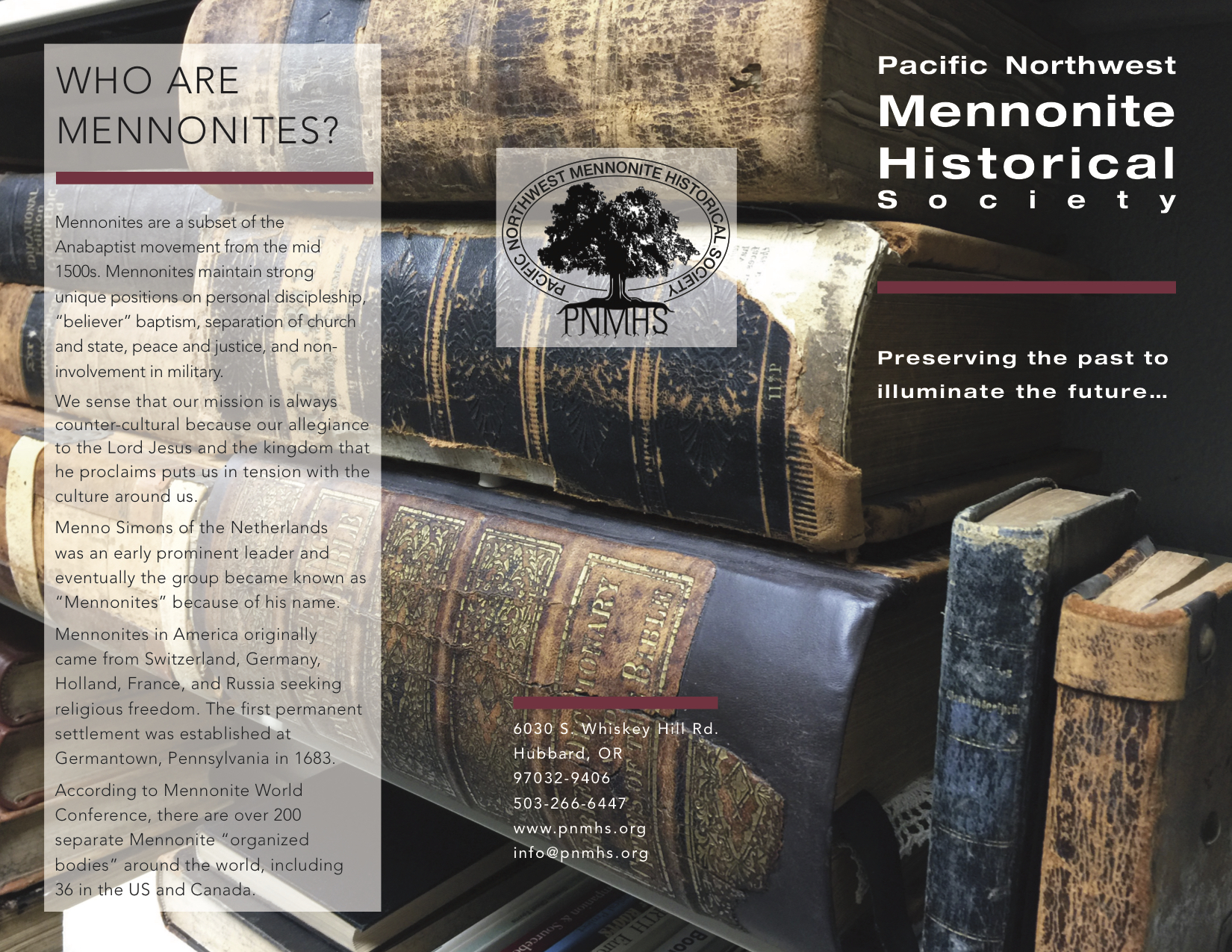 Who are Mennonites?
Mennonites are a subset of the Anabaptist movement from the mid 1500s. Mennonites maintain strong unique positions on personal discipleship, "believer" baptism, separation of church and state, peace and justice, and non-involvement in military.
We sense that our mission is always counter-cultural because our allegiance to the Lord Jesus and the kingdom that he proclaims puts us in tension with the culture around us.
Menno Simons of the Netherlands was an early prominent leader and eventually the group became known as "Mennonites" because of his name.
Mennonites in America originally came from Switzerland, Germany, Holland, France, and Russia seeking religious freedom. The first permanent settlement was established at Germantown PA in 1683.
According to Mennonite World Conference, there are over 200 separate Mennonite "organized bodies" around the world, including 36 in the US and Canada.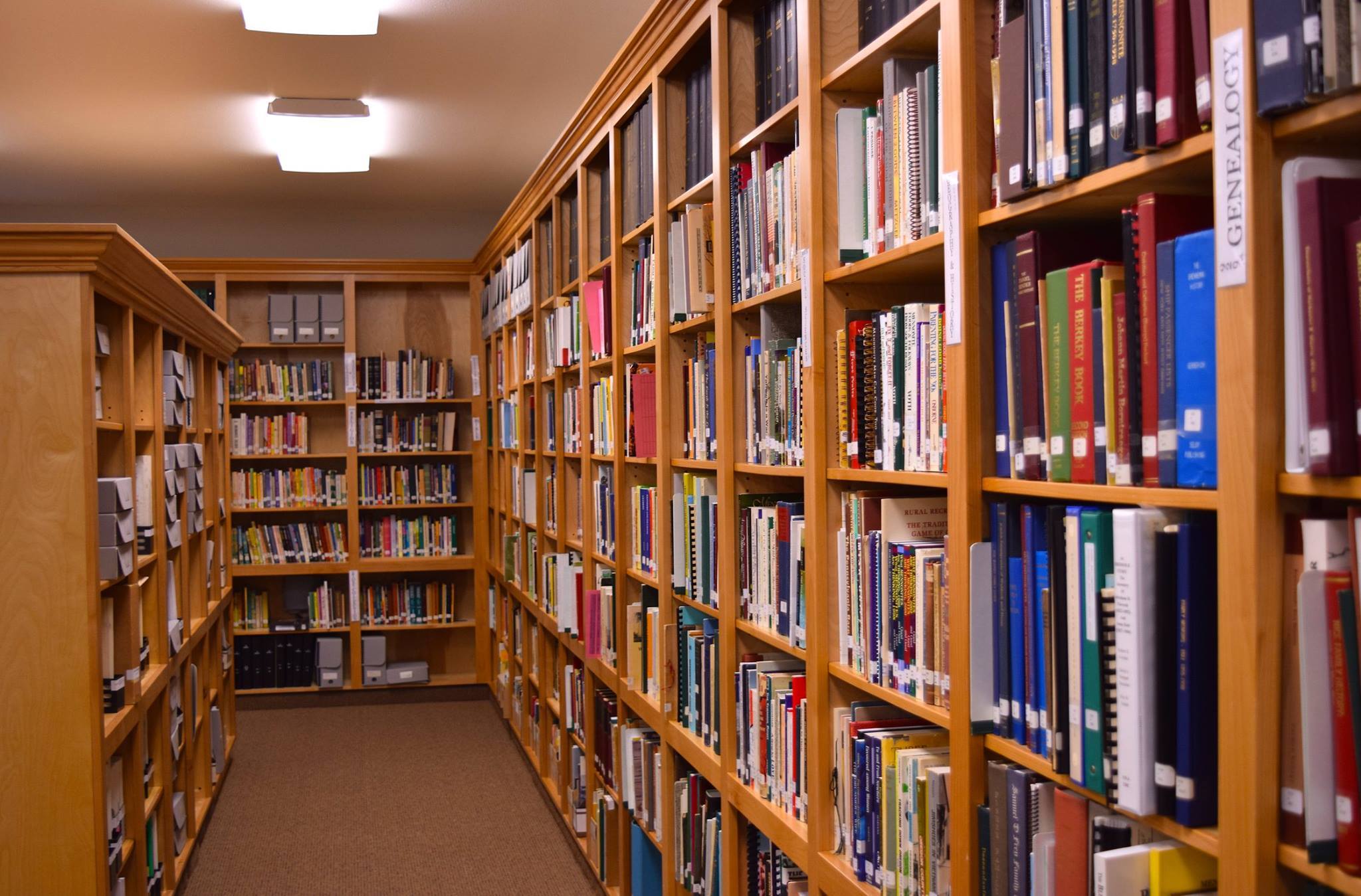 PNMHS Library
The Pacific Northwest Mennonite Historical Library has a 3000+ volume collection including an extensive genealogy section and books authored by Mennonites. There are also books about Mennonite theology, issues and history. You are invited to visit our library (call for hours) or you may explore the collection by searching our online catalog that is updated regularly. Visit this page to learn more about our online library catalog.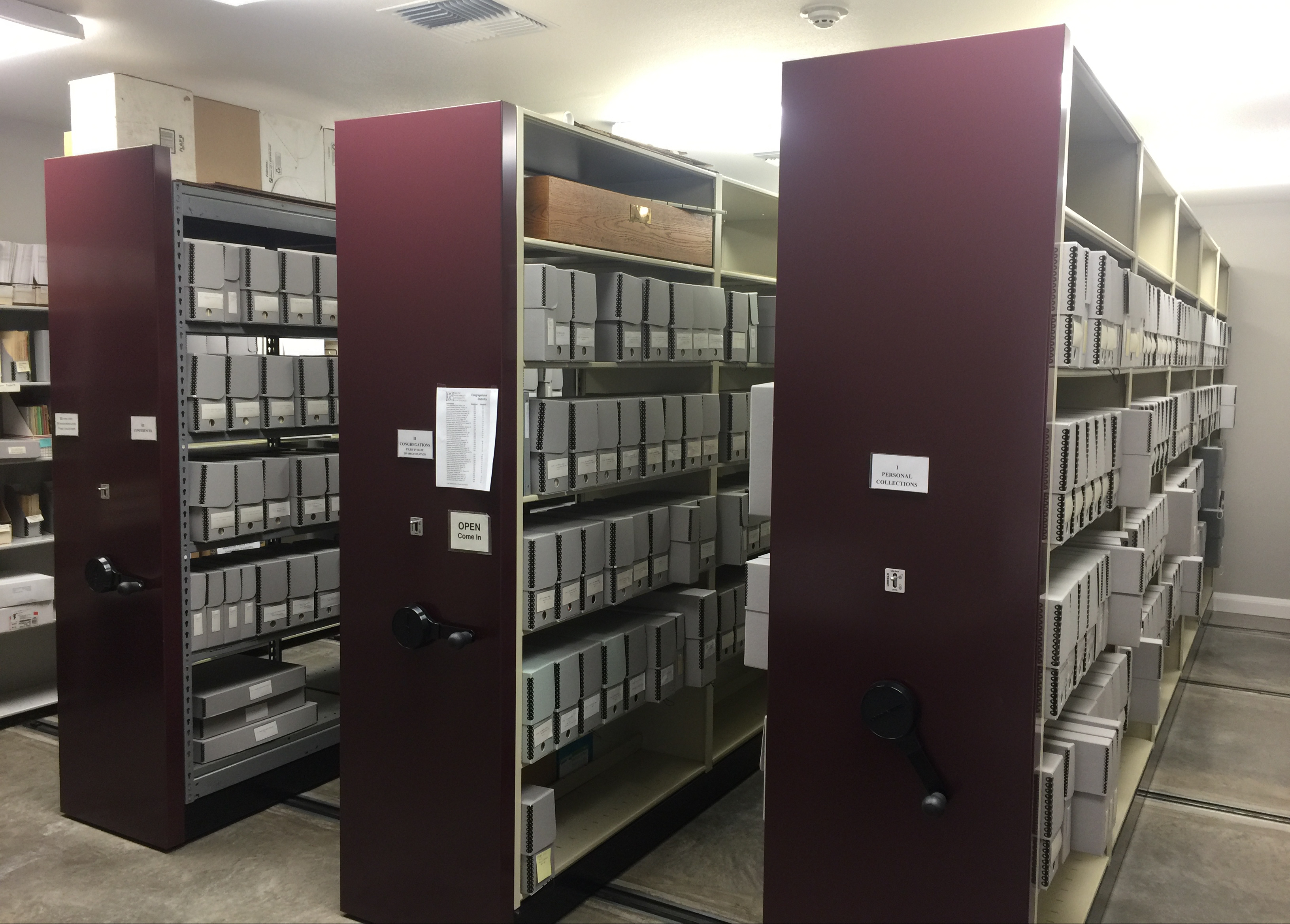 Sponsored…
Is There a Lesson? European Anabaptist Heritage Documentary with John Ruth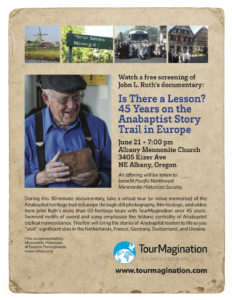 If you have ever travelled with John Ruth on a European Anabaptist Heritage tour you won't want to miss his 90 minute documentary entitled Is There a Lesson?. During this 90-minute documentary, relive your memories of travelling the Anabaptist heritage trail in Europe through still photography from the 1960's through decades of film footage to video from John's more than 60 heritage tours. The four-country tour is linked by the twinned motifs of sword and song, emphasizing the original centrality of the Anabaptist theme of biblical nonresistance. Even if you never went on a heritage tour, this film will help to bring the stories of Anabaptist leaders to life as you virtually "visit" significant sites in the Netherlands, France, Germany and Switzerland.
Save the date: June 21 • 7:00 pm
Albany Mennonite Church 3405 Kizer Ave NE Albany Oregon.
An offering will be taken to benefit Pacific Northwest Mennonite Historical Society.
WATCH the FILM TRAILER 
which gives you a taste of the 90-minute documentary about tracing the story of Anabaptist Heritage in Europe
produced by John and Jay Ruth.